Products & Services
Printing for small business owners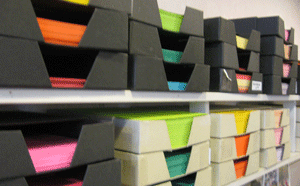 Color - a big help in communication
When it comes to business communications services, we've got your colors. We can provide virtually any product or service imaginable to communicate with your clients, employees, stockholders, or vendors. And your colors will aid ready recognition of your message across all platforms.
Business cards and post cards can be produced to match your website design. Post Road Press can handle all kinds of media for you. Match your sell sheet to a six-foot banner for a trade show; match your home page to a tri-fold brochure; match your store bags to your special offer in your email marketing; Our production team can create matching files in different formats for you. Publishing, editing and copywriting services are also available for the business person who needs short-term writing assistance.
What about promotional items? Custom-made candy bars featuring your logo? Water bottle labels? Wine bottle labels? Post Road Press at Two Ems is your place to go when you need help promoting your small business. You will find a complete range of promotional business products at Post Road Press.
If it includes words and images on paper, plastic, leather, or engraved metal or internet pixels, we can create it for you.
The newest substrate that we can print on isn't even paper. Xerox and Domtar cooperated to develop a polyester sheet perfect for restaurants. It is polyester; you can spill tomato sauce on it and it wipes right off. Never needs laminating!
Short descriptions of some of our more popular products are shown in this section.
Our in-house digital printing department specializes in custom printing of your photos and artwork. Products made from your photos or from scans of your original artworks include Holiday greeting cards, note cards, stationery with matching envelopes, bookmarks, flyers, posters and dozens more.
Services