Products
Fine writing instruments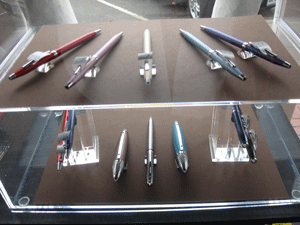 The sun shines in the window and makes the gold pens sparkle.
AT Cross, long-time pen manufacturer, has beautiful, well-made writing instruments that last for years. From the traditional ball point pen in chrome or black, to modern leather-wrapped or titanium diamond-etched barrels, you have dozens of choices. Writing styles include the newest gel pen, the roller ball or, of course, the fountain pen with a gold nib. If you don't see the exact model you want, we can get it for you in just a few days - and, don't forget, it can be personalized, too.
And, yes, we even have bottles of real ink!
Another of our pen manufacturers is Fisher, the manufacturer of the Space Pen, which writes in space (if you're an astronaut) or under water (if you're a professional diver) or upside down (if you're an acrobat)! We have dozens of Fisher Pens, the bullet pen is the most popular, and, of course, a fine feature, as far as we're concerned, they are made in America!