Artist Cards
Three artists' cards at Post Road Press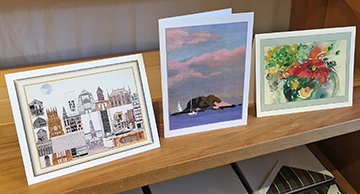 Post Road Press at Two Ems features three local artists, Robert Morris of Guilford, Alexandra K. Sellon of Branford, and Sara Nebel of Madison.  We design, print and sell their cards in the store. Come in during store hours to see the wide variety of their art and the quality of our printing.
We can also design and print cards for you with your images, which you can send to us as high-resolution jpeg files.
Our digital press produces extraordinary prints, so fine that you may be able to notice the brush strokes. The in-store cards, on Classic Crest stock, are 4.25 x 5.5 and fit into an A2 envelope. It is available in solar white and classic cream. You may choose cards in two larger sizes as well; A7 (5 x 7) and A9 (5.5 x 8.5).
Your Art Cards, pricing
Set up format: $30 (includes one proof)
Successive proofs: $10
File fees: $10 per original art file
Press set up: $10 per print run
Prices: Complete card, printed in full color on one side, with unprinted envelope
Small - $2 each (A2)
Meduim - $2.15 each (A7)
Large - $2.25 each (A9)