Company Culture

Family Values are Respected Here
We believe family values and family events and celebrations are keys to life and community. We especially believe in providing professional printing for family special events. We love what we do. We copy your old family photos with care and make the reproduction better than the originals.
We believe in communication. We believe that legibility is the key to visual communication. Design, typography and printing methods that aid communication are therefore the goal of every piece of paper we print.
We take care in using the right color of ink and the right degree of formality to match other elements of important family events. The same professional and caring work applies in the printing of your non-profit organization's post cards or your business's brochures.
We are greatly satisfied each day when delivery of our finished product is exactly right for the family, the organization or the business.
Custom Greetings Welcome You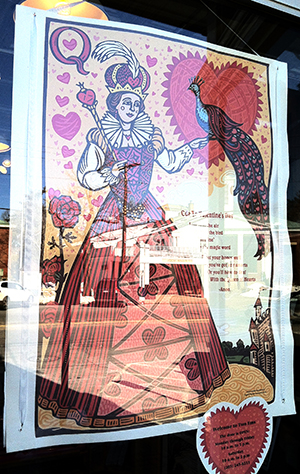 Poster reprints
Ode To Valentines Day
Our front door always features seasonal
artwork by Killingworth illustrator
Scott Baldwin along with
a seasonal verse written by a
local guy named "anon."
The verse usually shows the reader
that we folks at Post Road Press
like to hear a chuckle or two
when readers get the joke.
Our Mission And Promise To You
Our mission is to provide you with the highest-quality products and services possible in a timely fashion and at a competitive price. We promise to listen to your goals as we plan your printing project. We will always be there with honest, expert advice and quick, friendly customer service.
Our goal is to keep social graces and quality products alive in a world of hurried and untouchable contacts through the air. There is nothing more well-received than a handwritten note on a sheet of fine smooth paper. That's why we have papers to write on and pens to write with so that you can contact someone in a very personal way.
Guiding Principles
We have recently decided to find as many good Made in America products for you as we can find space for on our shelves. Our regular vendors all meet that criteria, but we will showcase new products regularly now because they are helping get America back to work.
Two newer members of the group of American vendors at Two Ems are Puzzles that Rock, made in Michigan and Boatman-Geller personalized home goods, made in Indiana. Come in to see their fine products next time you are downtown Madison.
We're proud of the strong roots we've built in our community. We have been helping business people, non-profit organizations and individuals with printing and printing services for more than 36 years, right here in Madison, the center of Connecticut's Shoreline. We pride ourselves on being a complete source for all of your business communications needs and have always been on the leading edge of technology.
We will continue to evolve as marketing professionals ready to meet challenges our clients may face.