Blog Archive
Aunt Elitha
J. Kent Sprague on 07/18/2012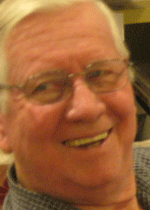 Helen E. Lock was my mother's older sister. We called her Aunt Elitha. I never knew much of her early adulthood but in retirement she spent about six weeks every summer with us. She was a very interesting character.
Aunt Elitha taught in Hopi Indian schools in Arizona for many years. Her husband died relatively young in the Southwest so she never had any children and never re-married. Over the years she kept many of the drawings of life on the reservation done by her students. She accumulated at least fifteen authentic Hopi and Sunni Kachina dolls from her time there She also obtained some Navajo bowls and rugs which were like works of art. Every trip back to Illinois included a trunk full of those Indian artifacts to store in my mother's attic.
The drawings by Hopi students are remarkable in their detail. Some of them depict life on the reservation such as basic health lessons, hunting for food and ceremonial events. Others are drawings of villages or landscapes of the area. A series of drawings were made of Kachinas. A great deal of the Hopi lifestyles, activities and beliefs can be learned from the drawings.
The Kachinas were packed in an old trunk in mother's attic. We brought them to Connecticut in the late 1970's. They were in less than pristine condition, so Margie and Paul set out to restore them. First, they read everything they could find about Kachinas. They matched and repainted colors with care, replaced missing feathers with the proper types and repaired broken wooden parts with authentic wood from Cottonwood roots. When the job was completed the Kachinas were then put in plastic dust covers and distributed back to family members.
Aunt Elitha retired to Tahlequah, Oklahoma which is the center of activities for the Cherokee Nation. She lived alone for many years in a small house that was apparently crammed full of junk and old reading materials. When she came to visit us she would stay up most of the night reading cheap romance and mystery novels. Then she would sleep most of the next morning. She knew that nobody in our family smoked so she would go outside and hide behind mother's big lilac bush for a cigarette. It was hard to fool anybody who wondered why the lilac bush was enveloped in a cloud of smoke. My mother thought Aunt Elitha had developed some bad habits from living alone so long.
Aunt Elitha drove a small coupe from Oklahoma to Illinois every summer. She was well under five feet tall and I swear that she looked through the steering wheel to see where she was going. She drove about thirty-five miles per hour but slowed down from that and moved farther to the right side of the road every time she met another car. At about age ten I rode with her to Barry one time and begged my mother not to make me ride with her anywhere again. I had never been so scared before in my life.
She didn't volunteer much information but she was an interesting conversationalist on a variety of topics and I learned some things from her. She could tell you as much as you could absorb about Indians and in particular the Hopi. After all these years, I can still tell anyone that the five civilized tribes were the Cherokee, Chickasaw, Choctaw, Creek and Seminole. She could lecture anyone about tea and why she considered Orange Pekoe the best blend available. She could give you a great detail of why she thought F.D.R. was a terrible president because of his social programs and policies.
My favorite recollection about Aunt Elitha was the one time she met Margie before we were married. There was instant approval without further inspection or questioning because she considered Margaret to be a good old-fashioned substantial name and that her character must be the same.