Blog Archive
Fish Tales
J. Kent Sprague on 04/23/2012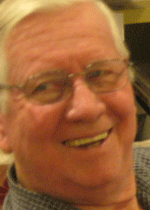 At the Hull Barber Shop, Babe Walker was known for his tall tales about fishing. With your twenty-five cent haircut, you got at least thirty cents worth of entertainment. It was hard to tell how many people were waiting ahead of you because some of them would sit back down after their haircut to listen to a few more fishing stories.
One of my favorites was Babe telling about how to catch ten pound catfish without a pole or net. First you needed to find a partially submerged log where a dead tree had toppled into a slough. You crawled down the log and lay flat on top where you could reach down the sides to the bottom of the log in the murky water. That's where the big catfish liked to hide. When you felt a catfish, you gently slid your hand under it where you could rub its belly. That made him doze off so you could just lift him out of the water and put him in a sack. Babe always ended the story by warning everyone not to try catfishing by hand unless you also knew how to avoid snapping turtles and water moccasins in those slimy waters.
Seafood available from the Mississippi River was primarily catfish, carp and perch. It wasn't until much later when we moved to Minnesota that I learned that those folks who grew up eating walleye and trout didn't consider bottom feeders like catfish and carp as edible fish. They may be ugly, but I still think that fried catfish is a delicacy.
It was almost un-American to travel in northern Minnesota and Wisconsin without a fishing pole and tackle box in your trunk. The opening days of the bass fishing and deer hunting seasons were written into union contracts as holidays in that area. Otherwise, the absentee rates on those dates would make it difficult for businesses to function normally.
The biggest bit of local color in Duluth was the early April smelt run from Lake Superior into the creeks and rivers. People would build bonfires near the mouth of local rivers and spend most of the night partying, drinking, freezing and catching smelt. The preferred smelt fishing method was to dip them up with a small mesh net. Garbage cans and buckets also worked well when the smelt were really running. They were tasty little fish when prepared with a beer batter. They also could be packed in a cardboard milk carton and frozen solid in a block of ice for later use.
Bill Winzenberg, our next door neighbor in Duluth, once took me lake trout fishing in the Lake of the Woods on the Canadian border. We traveled at least five miles by boat to a rocky point of an island. The water was about 100 feet deep only thirty feet from shore. We rigged our lines with a trigger alarm loop around a beer can on the rocks so they didn't need tending all the time. We caught one three-pounder and one twelve-pounder in the weekend of fishing. They were the main attractions for a neighborhood party when we got home.
I haven't had a lot of success fishing with Margie. She has never let me forget the time she caught a nice walleye in Minnesota and I let it flop over the side of our canoe while removing the hook. Then, years later, we went fishing for bluefish on Long Island Sound with Pat and Dick Bangert and Vivian and Carl Larson. Margie was the only one of the group to get sea sick on the boat.
Our favorite Inn is called Blueberry Hill near Brandon, Vermont. One time we went there with Jeanette and Fred Olchowski for a week-end of hiking, eating and relaxing. The gals saw a poster for a local guide with all the needed gear who would teach you how to fly fish for trout. They convinced Fred and me to take advantage of the opportunity. The guide picked us up at the Inn and took us to a nearby stream called Furnace Creek, which he described as a famous trout stream where you could always catch fish. He told us it was where President Dwight Eisenhower was taken to fly fish a couple of days after they had dumped two truckloads of rainbow trout into the stream.
We spent most of the afternoon traversing about two miles upstream in Furnace Creek doing everything the guide told us while thinking like a fish. We were getting wet and tired, with a strong thunderstorm approaching when Fred finally said "I don't mean to complain, but have you noticed that we haven't caught anything and I'm standing knee deep in water in the middle of an electrical storm?" Our fearless guide just said "Oh don't worry about it. Ike didn't catch anything here either."