Blog Archive
I Have Something in My Pocket
Posted by Margaret Sprague on 12/30/2011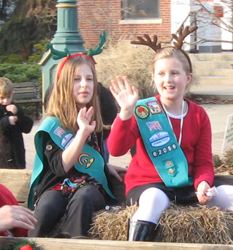 Decades have not erased the feeling of happy success I had as a girl of seven.
I stood in our living room, beside the piano. My little sister was sitting on the floor, my grandmother and mother were on the davenport and my father sat in his brown chair.
I was dressed in my Brownie Girl Scout uniform that I had worn that day for our Troop meeting at the home of our leader Eleanor Lange. Mrs. Lange had taught us a new song, and this was my chance to practice it at home before next week's ceremony.
I'm sure a great many of you know the song:
"I have something in my pocket that belongs across my face
"I keep it very close at hand in a most convenient place
"I'm sure you could not guess it, if you guessed a long, long while
"So, I'll take it out and put it on –
"It's a great big Brownie SMILE."
The reaction to my singing truly made my heart sing!
My whole family smiled right back, while clapping loudly – all of them at the same time! What a terrific reaction to such a small effort from a small girl. A lesson learned at seven, and never forgotten.
And, the lady who taught that song, sadly dead of a stroke long before her time, still lives in my heart all these years later. She taught me that a small effort could have a large affect. How little effort it takes to exchange a smile, and what power a smile has over the human heart.
Girl Scouts of the U.S.A. celebrates 100 years of service in 2012. My daughter and now my granddaughter have also benefitted from Scouts – may the organization continue teaching girls many happy lessons for many more years.