Blog Archive
Pie
J. Kent Sprague on 12/23/2011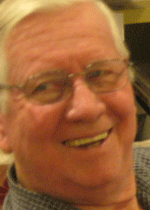 If there is one universally delicious food made by the great cooks of this country, in my humble opinion it is the homemade pie. Pies come in many flavors but some of the best have fruit fillings of whatever is in season. I've never seen anyone haul out a recipe for pie, as the cook usually just uses the quantity of each ingredient they have always used, until it looks and feels about right.
Midwestern farmer pies are no-nonsense desserts with great crusts and usually only a single kind of filling. There is little of that sissified blend of strawberry and rhubarb or the combination of peach, blueberry and cherry that comes with the cutesy name of "Fruit of the Farm." They also don't have the six inches of meringue on top that delicatessens think makes their pie special. Homemade pies are the feature attractions of many church dinners and special occasions.
Local fairs and town picnics often have pie baking contests. I have no idea what the criteria might be to judge such an event, as I have never been chosen to officiate, though I'm undoubtedly qualified for the job. Those made-for-TV pie eating contests where participants stuff their pie holes as fast as possible are something entirely different and are a gross waste of good pie. Fortunately, when a performer like Milton Berle or Red Skelton starts hitting people in the face with pies, they are usually wasting nothing more than shaving cream.
Years ago Hull, Illinois had what was then called a village idiot, named Kinley Smith. Everyone knew Kinley because he was a big happy guy who hung around wherever people gathered so he could be everybody's friend. One time at the Hull Picnic several people started buying him slices of pie which he consumed with great pleasure and gusto. Unfortunately, he didn't know when to stop and ended up with such a stomachache that he had to go to the local doctor to have his stomach pumped to remove all the pie. My mother thought that was a very cruel thing to do to Kinley, whose eye for pie was bigger than his ample stomach.
As a kid, a fresh pie was often my reward for good behavior from my mother. Later I also learned that it worked just as well for my mother-in-law. Probably my three favorite kinds were blackberry, peach and rhubarb. By strange coincidence, they were the same three things that I would most often pick for mom's use. I also tried to offer the good advice that their use exclusively in pies (rather than in other lesser desserts such as cobblers or over ice cream) was the best use of the ingredients.
In our neighboring town of Clinton, Connecticut there is a gas station and farm store called Gator Creek Farms. There, you can buy Gator gas for ten cents less than anywhere else around if you pay cash. The other attraction is that you can get gas station pie baked fresh by momma and delivered warm to the gas station by 11:00 am. The trick is to get there before 1:00 pm, when the daily supply is usually wiped out. Gator pie is the best quality store pie I have found in Connecticut.
Finding good pie in restaurants is an art form. The good ones are usually made by the restaurant owner's mother or grandmother, who limit their production to a handful of pies each day. Typical of this was a small nondescript restaurant I remember in Jackson, Minnesota many years ago. It had the best pie in town and everybody there knew about it. You soon learned to pick up your piece of warm pie just inside the front door and carry it to a table in the back. Grandma made only about a dozen pies a day for the restaurant and if you waited until time for dessert to order a piece, the locals would have them all taken.
The first few years we were married, I traveled a great deal during the week and Margie frequently had a fresh pie waiting for the weekends. To show my appreciation, I developed a pie chart listing all the different kinds she had made, along with a rating scale from one to ten for each one. The ratings required careful consideration. No pie ever achieved a perfect ten for fear that she might think that perfection had been reached and she could stop trying. Also, no pie ever got a rating below 9.8 because they were all good and I didn't want to risk annoying the cook. Remember that we were relative newlyweds back then, which required some degree of diplomacy. Anyhow, the pie chart got left behind, taped to the inside of a cabinet door when we moved from California, and there was no great clamor to continue the practice. I hope the people who bought our house also liked pie.