Post Road Print Shop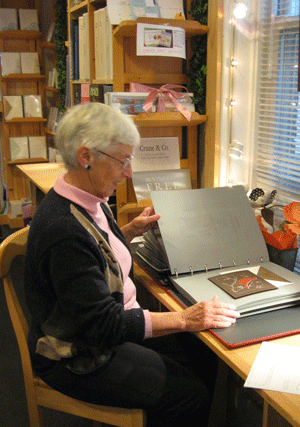 Engraved & Letterpress Sample Books
You can get dizzy looking at every choice you have online, so we decided to show you the complete invitation department waiting for you.
You can browse more than 50 wedding invitation and personalized stationery sample books right here on Madison's Boston Post Road on Connecticut's shoreline. Viewing our sample books makes it easier to understand the quality of the products we offer.
We are fussy about printing and we trust the select vendors represented on our shelves. Because we know printing, we can help you make educated choices about the printing methods, the typography, legibility and paper. And, a valuable plus, we can help you avoid errors of etiquette, grammar and spelling!
You can admire and touch printed samples by Birchcraft, Boatman-Geller, Carlson Craft, Crane & Co., Envelopments, Paper Duvet, William Arthur and more. Personalized printing at Two Ems can be as low as $1 per set. On the other end, a recent job we produced, beautiful custom books designed for a fairytale wedding, were $75 per set. But most people make choices that come to about $3.75 per set.
When you come in, you can also see samples of two of our own specialties - digital photo cards and artist's note cards. Your friends and neighbors have had us print Save the Date post cards as well as engagement, wedding and anniversary invitations. Your Bar and Bat Mitzvah celebrations, birth announcements, graduation announcements, wedding programs and holiday greetings will also be created with care at Two Ems.
Full proofs and quick turnarounds help you finish up quickly, making it a snap to get to the mailbox and go on with other plans for your wedding or party.