Employment Opportunities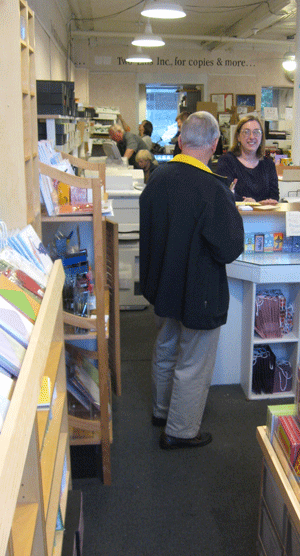 We look for many qualities in the individuals we hire, but the one that is most important is the desire to provide exactly the right product for each customer.
Regardless of an applicant's qualifications, that particular attribute -- the desire to provide excellent customer service -- is required.
If this is a quality you possess, we're sure you'll like working on our team. You'll be supplied with the latest technology, on-the-job and external training, and the stimulation of fast-paced, high-quality production with a great bunch of people.
JOB OPENING - Systems Analyst / Graphic Designer
Post Road Press at Two Ems, Inc.
782 Boston Post Road, Madison, Connecticut 06443
Job Posting – Systems Analyst / Graphic Designer
• A full-time position working in printing and publishing is now available with Post Road Press at Two Ems, Inc.
• Experience in a copy center, in graphic design and/or with Xerox high-end printing machinery is desired.
• A candidate wishing to join the team at Post Road Press must be accurate, careful, organized and willing to learn. Starting hourly compensation from $12 depending on experience. Opening at 20 hours a week, it is expected to turn into a full-time job for the right person. He or she is expected to help with daily walk-in customer traffic.
Systems Analyst for Post Road Press is expected to:
Keep all computer systems operating at maximum efficiency with regular backup of all data
Regularly give instruction to staff for trouble-shooting simple mechanical and/or electronic glitches
Keep up with technology and recommend appropriate new applications, updates, hardware, software
Operate and maintain computer systems
Streamline and maintain operations for both Macintosh and PC systems
Maintain network connections between in-house printers and computers
Keep systems current with software updates and scheduled backups
Monitor and troubleshoot software applications as well as computer and printing hardware
Maintain good order in all mechanical systems. Use initiative to improve workflow or output.
PC network for business recordkeeping on QuickBooks PRO and QuickBooks Point of Sale
Develop ways to coordinate stock needs with job orders (POS: Sales Order/Purchase Order)
Be the technical liason for company bookkeeping software with Intuit and Bank of America
Mac network for print production, using FileMaker Pro and Adobe Creative Suite
Devise and maintain a useful database for cross-platform access to contacts by category
Improve Task Management database for ease of employee use on a daily basis
Graphic Designer for Post Road Press is expected to:
Maintain a smooth flow of custom printing jobs through the in-house manufacturing system
Pleasantly meet with customers to understand their project's needs
Design and print all custom orders with a smooth First-in, First-out timely workflow
Design and print Post Road Press publications such as: annual calendars, photo books, cards & notes
Design, print or send out all advertising or marketing materials for Two Ems, Inc.
Use initiative to improve profitablity for in-house custom design
Create templates for simple short-run printed products
Create and prepare templated files for off-site jobs (envelope printing, binding, cutting, etc.)
Create graphic images for inclusion in custom printing jobs of all kinds
Design, write code and devise maintenance schedule for websites for Post Road Press customers
Design and post art for web projects, in cooperation with Post Road Press marketing plans
Application Process
Interested persons should present a printed one-page résumé with a cover letter to:
Precise Publisher, at the address above, no phone calls, please.
A personal interview will be arranged for qualified applicants.
All applicants will be acknowledged by email; include an email address with your contact information.