Employment Opportunities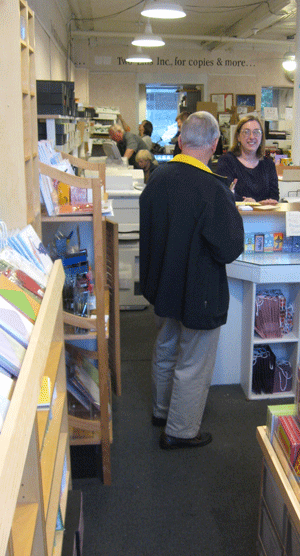 We look for many qualities in the individuals we hire, but the one that is most important is the desire to provide exactly the right product for each customer.
Regardless of an applicant's qualifications, that particular attribute -- the desire to provide excellent customer service -- is required.
If this is a quality you possess, we're sure you'll like working on our team. You'll be supplied with the latest technology, on-the-job and external training, and the stimulation of fast-paced, high-quality production with a great bunch of people.
NEW JOB OPENING - Administrative Assistant
Post Road Press at Two Ems, Inc.
782 Boston Post Road, Madison, CT 06443
Job Posting – Administrative Assistant
The sincere stationers and precise publishers of Post Road Press in Madison, Connecticut need an Administrative Assistant. A candidate wishing to join the team at Post Road Press must be accurate, careful, organized and willing to learn. A typical day presents dozens of different tasks; a candidate must be able to move easily from one to another. Compensation $10 - $11 per hour depending on experience.
Tasks include welcoming customers, entering data into complex software programs - both Mac and PC - writing short targeted marketing messages, and monitoring the company's online presence.
This employee will assist in three areas – business operations, printing and design, and marketing.
A three-month trial, at 20-hours-a-week, is expected to turn into a full-time job for the right person.
The winning candidate will fit well with the current staff, will really like meeting people, will enjoy seeing operations flow systematically every day due to his or her efforts. The "perfect bell" rings at Post Road Press when a customer says "perfect" as their job is delivered; the new staff member will enjoy helping to keep that bell ringing every day.
• Business operation assistance
Fulfilling customer service for walk-in traffic (copies, faxes, stationery sales)
Directing walk-up inquiries to either sales or production as applicable
Bookkeeping – daily sales and expense entries
Database management for job tracking and customer records
Inventory entry and stocking of retail and production products
Purchasing for business operations
• Print/Design assistance
Checking of all Final Proofs
Fulfillment of PrintMe orders and bindery functions
Assemble invitations, programs, etc.; package completed jobs in Post Road Press style
Purchase house stock; contact vendors for click counts, repairs, etc.
Monitor job trafficking system daily; contact vendors or customers as needed
• Marketing assistance
Appointment scheduling for all employees
Writing regularly scheduled email marketing messages
Monitor website and social media - post new photos, new products, news announcements
Revise website, one section at a time, to incorporate the new store name, Post Road Press
Implement window designs to attract pedestrians on the Boston Post Road
Application Process
Interested persons should present a printed one-page résumé with a cover letter to:
Sincere Stationer, at the address above, no phone calls, please.
A personal interview will be arranged for qualified applicants.
All applicants will be acknowledged by email; include an email address with your contact information.