Employment Opportunities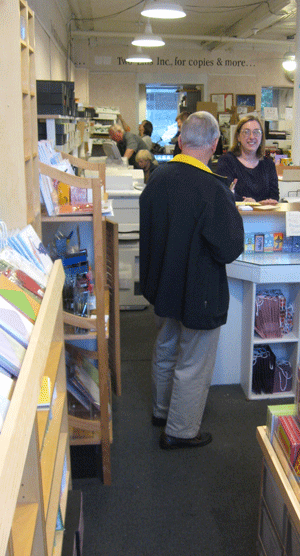 We look for many qualities in the individuals we hire, but the one that is most important is the desire to provide exactly the right product for each customer.
Regardless of an applicant's qualifications, that particular attribute -- the desire to provide excellent customer service -- is required.
If this is a quality you possess, we're sure you'll like working on our team. You'll be supplied with the latest technology, on-the-job and external training, and the stimulation of fast-paced, high-quality production with a great bunch of people.
NEW JOB OPENING - Marketing & Media Assistant
Job Posting – Marketing & Media Assistant
A new position, designed to support the new store name Post Road Press is open as of 8/19/14.
The Marketing & Media Assistant for Post Road Press must be accurate, careful, organized and willing to learn. Tasks include data entry into complex software programs, writing short targeted marketing messages, monitoring the company web site and other sites for market surveys and analyses.
• This employee will be expected to cooperate with all staff members and to follow established systems.
• This employee will be expected to attend bi-weekly Staff Meetings, but is not required to work on-site.
• A three-month trial of the 20-hours-a-week job, and the employee, is to start in September. The objective is to promote, monitor and maintain a positive public presence of Post Road Press.
• Website Traffic Management
Establish the Customer Database at www.Two-Ems.com using an Email Marketing program. Establish an online appointment calendar at www.Two-Ems.com.
Maintain both database and calendar, including updates with other company data and calendars.
• Website Marketing Messages
Write, with management direction and approval, regularly scheduled email marketing messages. Study website activity to help determine future targeted messages. Regularly mine customer sales data to find additional customers to add to website database.
• Webite General Maintenance
Review weekly; post new photos, new products, news announcements to keep site up-to-date. Revise site, one section at a time, in cooperation with host technicians, to feature Post Road Press.
• Assist in publication and direct mail advertising and promotion. Review website traffic after each print or direct mail release to look for signs of ad response.
Review locale traffic to look for correspondence with online or print local directories. Send brief press releases to local media in conjunction with website marketing messages.
APPLICATION PROCESS
Interested persons should present a printed one-page résumé with a cover letter to:
Margaret M. Sprague, president, at the address above, no later than September 20, 2014
A personal interview will be arranged for qualified applicants; all applicants will be acknowledged by email.