Our Staff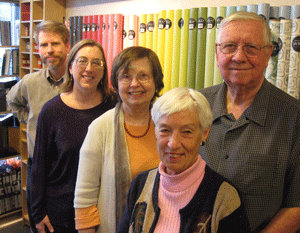 As a "Mom & Pop" shop, we treat the people who work with us as part of the family. And our "family" staff believes in treating you as we would a guest. We hope that you find us friendly, helpful, courteous - but most of all truly interested in providing you with a high-quality product or service. When you come to us for printing or paper, our goal is to make you feel welcome enough and satisfied enough to return for more.
Margaret M. Sprague, president

Margaret founded the business in 1980 when very few women in America were company owners. In addition to more than 30 years of experience growing Two Ems, she has working experience in typesetting, editing, copywriting, reporting and management in publishing firms. Her publication experience includes The Daily Illini, the Sioux Falls Argus Leader, the Minneapolis Tribune, The Shore Line Times, the Blue Book of Independent Schools and Amie magazine.

A graduate of the University of Illinois, with a B.S. in publication management, her honors include Mortar Board and Women in Communications, Inc. (WICI). Current memberships include: The Madison Chamber of Commerce, National Association of Quick Printers (NAQP), National Association of Printing Leadership (NAPL), National Society of Daughters of the American Revolution (NSDAR), Phi Mu Fraternity and The First Congregational Church of Madison Connecticut. An amateur historian, Margaret's hobby is public speaking on the subject of women in history.

J. Kent Sprague, vice president

Kent joined Margaret in her business after retiring from the corporate world, where he held marketing and management positions in industrial chemical firms for the paper-making and petroleum-processing industries. In 2013 he began a second retirement, changing his second career to part-time. He remains the primary contact for most of the shop's same-day services. One of his favorite things to make is the Family Photo Calendar; he started that product for the company when he joined Two Ems in 1991.

Kent is a graduate of the University of Illinois with a B.S. in Agriculture. His memberships include FarmHouse Fraternity and MaWanDa: he was Senior Manager of the Varsity Baseball Team. He is a veteran First Lieutenant of the United States Army. He is a past president of Toastmasters and umpired for more than 20 years for Madison Little League.

Current memberships are the Rotary Club of Madison, Connecticut, The Madison Land Conservation Trust, and the First Congregational Church of Madison. Kent is past president of Madison Public Television and has been its "voice of Tiger Football" as the play-by-play announcer since 1985. For fun, Kent builds dry stone walls around his home - and he's happy to answer requests for public speaking on the subject.

Paul D. Sprague, vice president

Paul, Software Engineer at Quad/Graphics, has been assisting at Two Ems since 1980. His expertise is in database design and management as well as computer software and network management. He has working experience in newspaper and catalog publishing firms. He is a presenter for Filemaker User Group. Paul's abilities include typography, photography and graphic design.

A graduate of the University of Illinois with a B.S. in Communications, Paul was staff photographer for The Daily Illini and founded the Illini Boomerang Club. A long-time member of the United States Boomerang Association, Paul has won national titles in several events at the sport's tournaments. Founder and president of the Wandering Nutmeg Boomerang Association, he and other throwers meet at various Connecticut fields to teach other Nutmeggers to throw and catch. Paul is a deacon at the North Madison Congregational Church.

Carol H. Baldwin, customer service representative, wedding specialist

One of Carol's favorite parts of her job is Wedding Specialist. She also helps families needing Bar and Bas Mitzvah invitations, Baby or Graduation announcements or Personalized stationery. Customers constantly tell us about Carol's valuable help at finding their way through our collection of more than 50 sample books to their "perfect" invitation.
Another of her favorites is fine writing instruments. Her extensive retail experience helps her relate to the needs of each customer.
A graduate of the Art Center College of Design, Pasadena, California, with a BFA, Carol has had working experience in professional design and illustration. She is a member of the Shoreline Branch of the American Association of University Women (AAUW) and served as its newsletter editor and publisher for many years. She has been a member of Literacy Volunteers Valley Shore.

Christopher Guerette, systems analyst, graphic designer

Chris managing our databases, network and web presence, and is proficient at graphics, typography as well as creating websites for our customers. On days off from work, he still works with youth programs at the YMCA or at Deer Lake Scout Reservation in Killingworth.

Chris holds a B.A. in English from Syracuse University, where he also managed a Macintosh computer lab and tutored students at the S.I. Newhouse School of Public Communications. He has been a Park Ranger for the City of New Haven and is an avid bowler, hiker and board gamer.

Marilyn H. Johnson, special projects

Marilyn has been a valued advisor since the company's first day of operation. A graduate of Swarthmore College with a B.A. in Political Science, she also holds an M.A. in Community Psychology from the University of New Haven. Marilyn serves as a consultant on projects related to business organization at the present time. She has considerable experience at editing and in medical proofreading. Marilyn is active in the lay caring ministry of the First Congregational Church of Madison.