Welcome to Two Ems, Inc.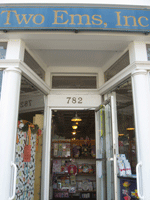 From the handwriting high on the walls to the fine writing instruments in the window, you can see that this family-owned print shop offers classic and traditional printing and papers. Fine papers to write on, engraved invitations to send - these are offered to you at Two Ems. And, lest you think we are too traditional, you can see our Xerox professional-grade quick printing machines behind the counter.
The best way to see all we offer you is to come downtown in Madison. We're easy to find - if you stand beside the Town Clock and look straight south, you will see Two Ems, just across the Boston Post Road.
Until you can come in person, please visit here for a sampling of our papers and printing. Our strength is in the customization and personalization that is accomplished when we talk directly to you about your needs. The internet is, for us, a place to indicate the wide variety of options you have. Please come in to see for yourself what we can do for you.
To place an order or get help with a new project, enter our online Customer Service Center. To download useful software and find helpful information, search our Resources & Support area. To learn more about us, browse through our Company Information section.
An easy-to-use pulldown menu, search engine, and link to our contact form appear on each page. Feel free to consult the site map at any time if you're having trouble locating certain infomation. If there's anything we can do to improve our site, please let us know.
Enjoy your visit!